To me, bike building consists of a three-prong approach: The Fit, The Bike, and The Ride.
The Fit
I studied bike fit at the Serotta Cycling Institute in 2006, and still follow those principles today. In my opinion, the greatest looking bike in the world means absolutely nothing if the fit is wrong. A good fit will make you more comfortable, more confident, and faster (if that's something you want to be). Every custom bike build at Bishop Bikes starts with a fit session, either be me, or a local fitter of your choice. If you don't live near me or can't visit my shop, then I will find a size specialist in your area for the fitting (if you don't already have one in mind).
The Bike
I will do an initial consultation to learn more about what you hope to achieve with a custom frame. We will discuss your fit, your handling preferences, how you intend to use the bike, and of course, any specific details you would like, such as lugs, tubesets, brake type, drivetrain, components, racks, attachment points and other such accoutrements. After our consultation, I'll create a drawing of your frame based on our discussions, and once approved, I'll get to work building your custom bicycle. Great skill and attention to detail will be used to craft your bicycle from raw materials into a finished product that is unique to you. From tubes to final build, your bike will be an expression of your cycling persona.
The Ride
Simply put, there is no other material that delivers the ride qualities of a well-built steel bicycle. That's not to say there aren't great riding bikes made from carbon fiber, aluminum, titanium, or other materials – but the feel of a steel bike is simply unmatched. When you combine the fit process with carefully selected tubing, quality construction and finish work, the result will be a bike that you love to ride, day in and day out.
This is your forever bike.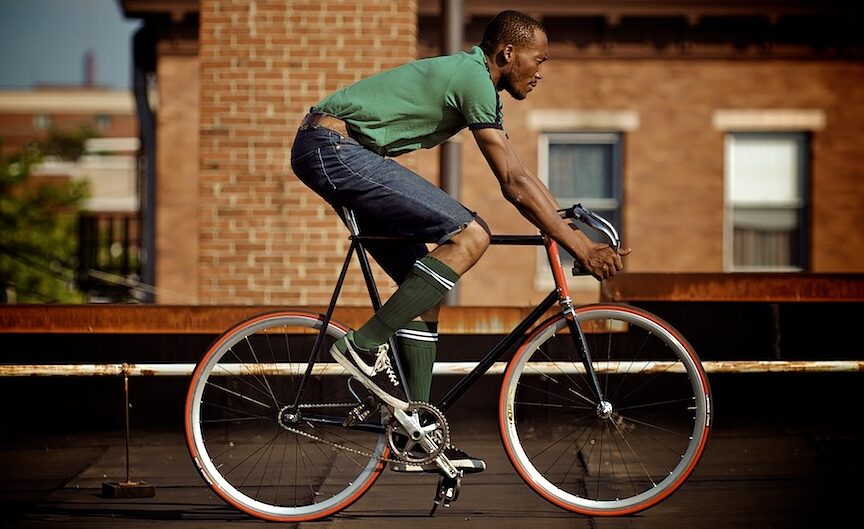 Materials
Steel is Real, as the saying goes, and my it is my material of choice for frame building. Steel has been used in bicycle manufacturing for well over 100 years – it's strong, it's customizable, and, when properly and carefully spec'd, has an unmatched ride quality. Modern steel has come a long way from the steel used in even the 1970's and 1980's – lighter, stronger, and heavily formed, modern steel is capable of producing very light and nimble bikes. I use tubes from a variety of manufacturers, including Columbus, Dedacciai, Reynolds, Tange, Kaisei and others, as well a number of rare and vintage tubesets, lugs, and components.
Dropouts
The type of dropouts used on a bike will depend largely on the type of bike and intended use. For rim brake bikes, I like to use xxx. For track and single speed bikes, I like to use…
For disc brake frames, I use stainless steel flat mount dropouts from Paragon Machine Works. They feature an excellent design that will offer many years of service, exacting tolerances, and are aesthetically pleasing in size and shape. Dropout facings are left unfinished for protection from wear and tear.
Headtube & Headbadge
Bishop frames that use tapered fork designs also feature a custom tapered headtube, sized exactly to each bicycle's specs. While many builders use a straight, 44mm headtube, the use of this custom designed headtube on Bishop bikes adds a touch of elegance to the front silhouette of the bike. It also results in a lighter overall frame, as less material is used for both the headtube and headset.
The Bishop headbadge is a signature visual element that appears on each Bishop bike that leaves my shop. I use several variations on the Bishop Icon logo for my headbadges, but each one is carefully affixed after paint, as the last step before the final build and delivery.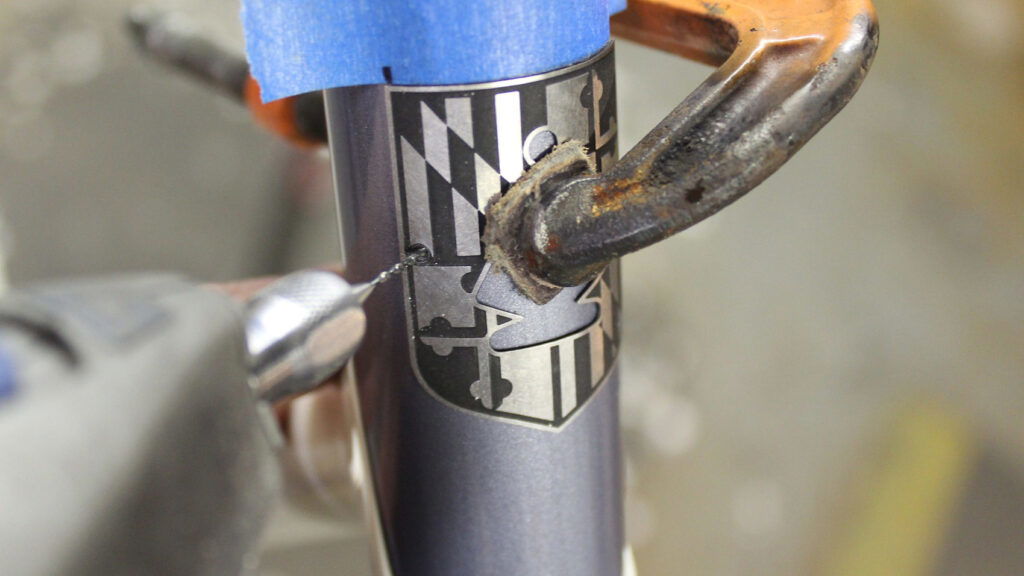 Details, Details, Details
One thing that makes a custom bike unique are the details that are built into each frame. Brake bridges with polished stainless steel Bishop logo inserts. Bottom brackets featuring a hand-cut Bishop icon. An elegant and streamlined, integrated seat post binder. Thinned lugs. Smooth brazing. Bi-laminate head tubes… the list of possible details is endless.
Paint
Pricing includes a single color paint job with secondary color for logos. However, the sky is the limit regarding paint, and I can offer estimates for more intricate paint designs. I work with several high-end painters that produce incredible results to add just the right icing on the cake, so to speak. The images below highlight some of incredible designs and execution possible with custom paint work.
Final Build
I always prefer to see my frames leave the shop as complete bicycles, assembled and finished. I have partnered with Cutlass Velo as our shop of choice for complete builds, as they offer an incredible attention to detail, and years of experience building and servicing high-end bicycles. If you choose to have Bishop build your bike, we can assemble using a build kit that we supply, or use your parts.
Industry Partners
I am proud to partner with some of the leading and most well-respected brands in the bicycle industry in order to offer a wide range of options for your final build. In addition to competitive prices, you'll have the added benefit of the insights we've gained during the fitting process.